Multiple African artists recorded the song "Africa Stop Ebola" to help people understand and fight the Ebola virus. The main message "Trust the doctor!"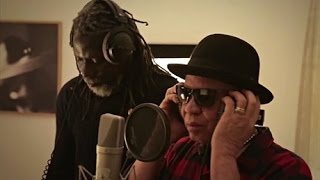 A collective of African musicians have come together to record a song to help raise awareness about Ebola in Africa. The song features the singers Tiken Jah Fakoly, Amadou & Mariam, Salif Keita, Oumou Sangare, Kandia Kora, Mory Kante, Sia Tolno, Barbara Kanam and rappers Didier Awadi, Marcus (from the band Banlieuz'Arts) and Mokobe, and also includes the musicians Sékou Kouyaté (electric guitar, bass, electric kora) et Ludovic N'Holle (drums).
The song is a message to citizens about what they can do to help stop the spread of Ebola in Africa. The song is performed in French and vernacular languages widely spoken across the region to ensure that the message is understood regardless of the level of literacy and education of the population.
Available on SoundCloud