Le titre complet de cette compilation est "African Scream Contest: Raw & Psychedelic Afro Sounds From Benin & Togo 70s" et regroupe des titres des années 70 produits dans cette région d'Afrique de l'Ouest.
Ecoutez l'album dans son intégralité, y compris des titres de T.P. Orchestre Poly-Rythmo de Cotonou et El Rego et Ses Commandos.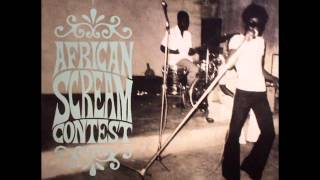 Dans le même ordre d'idée, vous pouvez continuer avec cet autre album "Legends of Benin", qui couvre à peu près la même période et où l'on retrouve le regretté Gnonnas Pedro.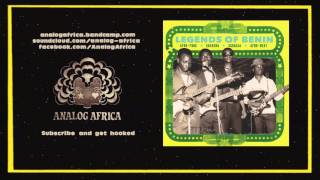 A retrouver sur Bandcamp : Volume 1 & Volume 2
Like most modern music in French-speaking West African countries, the music of Benin and Togo was influenced by a few main musical currents: Cuban, Congolese and local traditional music, as well as Chanson Française. Additionally, the geographical location of Benin and Togo – sandwiched between Ghana and Nigeria – exposed Beninese and Togolese musicians to Highlife music.
The cultural and spiritual riches of traditional Beninese music had an immense impact on the sound of Benin's modern music. Benin is the birth place of Vaudoun (or, as it is known in the West, Voodoo), and some of the rhythms used during traditional rituals – Sakpata, Sato, Agbadja, Tchenkoumé and many others – were fused to Soul and Latin music as early as the mid-1960s and later to Funk. That fusion is the essence of "African Scream Contest."
In the late 60s and early 70s rock and soul music started creeping into the region. In particular, the music of James Brown and Johnny Hallyday became immensely popular with university students. It was then that the music scene in Benin really started to take off.
What made this musical revolution even more interesting is that most of the musicians could not read music. Often the music they made sounded one semi-tone away from being out of tune, but somehow they always managed to bring all the elements together into something new and exciting.
One of the greatest bands of their era, Orchestre Poly-Rythmo de Cotonou, who are of course featured on this compilation, took the Afro sound to another level by showing their musical versatility in many forms. Although they were consciously copying western artists, they would always inject a dose of psychedelic Afro grooves that would make their music unmistakably Beninese. Their biggest song, "Gbeti Madjro" is believed to have revolutionised the music industry in Benin in the 70s when the country went through a period of political turmoil. The song is full of raw breaks and the hypnotic rhythms as well as screams à la James Brown – after this song many bands in Benin started screaming on their recordings, hence the title of this compilation.
Latin-influenced sounds are present on this compilation, too. Ouidah, a city on the Atlantic coast of Benin, is home to a large Brazilian community, or, as they are called in Benin, "Agoudas." Members of that community are descendents of slaves who returned from Brazil at the end of the 19th century. Their dances (such as Kaléta and Buriyanj) and songs are still being performed and fused into the traditional Beninese rituals. That, too, can be heard in modern Beninese music.