Nkem Owoh, qui joue et chante dans cette vidéo "I Go Chop Your Dollar", réalisée par Uzodinma Okpechi, est un acteur Nigérian très populaire qui a joué dans de nombreuses comédies "Nollywood" (l'équivalent Nigérian de Bollywood, l'empire du cinéma Indien) comme Osuofia in London.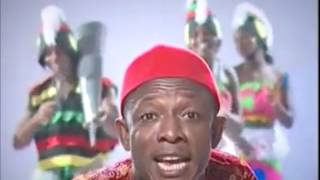 Le clip I Go Chop Your Dollar est extrait de la bande originale du film The Master, sorti en 2004. Il raconte la vie des "419ers", ces Nigérians qui ont mis en place certaines escroqueries où ils abusent de la crédulité et de la cupidité de victimes, via l'utilisation des messageries électroniques. Et oui, les activités de nature criminelle ont aussi "explosé" grâce à Internet…
Ce clip est donc une parodie (et non pas comme certain(e)s l'auraient compris, une apologie…) de ce que l'on nomme les scams ou fraudes 419, dont la dénomination provient du numéro (4-1-9) de l'article du code nigérian qui les sanctionne.
Le message de la vidéo est adressé aux Oyinbos (blancs) cupides, avec quelques phrases bien senties… mais contient aussi un "commentaire social", tant sur la problématique de ces escroqueries que sur les conditions économiques qui leur ont permis de voir le jour.
Original Lyrics
I don suffer no be small
Upon say I get sense
Poverty no good at all, ooo
Na im make I join this business

419 no be thief, it's just a game
Everybody dey play em
If anybody fall mugu,
Ha! my brother I go chop em

Chorus
National Airport na me get em
National Stadium na me build em
President na my sister brother
You be the mugu, I be the master

Oyinbo man I go chop your dollar,
I go take your money disappear
419 is just a game, you are the loser I am the winner

The refinery na me get em,
The contract, na you I go give em
But you go pay me small money make I bring em
You be the mugu, I be the master…
Na me be the master ooo!!!!

When Oyinbo play wayo,
Dey go say na new style
When country man do him own,
Them go dey shout: bring em, kill em, die!

That Oyinbo people greedy,
I say them greedy I don see them tire
That's why when they fall into my trap o!
I dey show them fire
Reprise d'un billet de 2014 sur mon défunt blog KoToNTeej.