Homowo, one of Ghana's most sought-after LPs, emerges from obscurity on a high-quality reissue.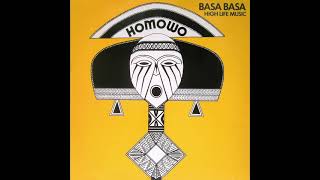 First released in Nigeria in 1979, this LP (Homowo and also known as Basa Basa Experience – Together We Win) is a unique collaboration with Themba 'T-fire' Matebese, who propelled Basa Basa's sound, inspired by Ghanaian traditional music, Soul and Afrobeat, into another dimension, adding disco elements [listen to African Soul Power…], synthesizers and the production aesthetics of the next decade.
Homowo
Konya
Black Light
African Soul Power
Together We Win
Love, Love, Love
African Soul Power (instrumental)
Shey An Kuri
Homowo is a harvest festival celebrated by the Ga people of Ghana in the Greater Accra Region. The festival starts in the month of August with the planting of crops before the rainy season starts.
"Here are the twins from Ghana!" announced the guards, as they escorted Joe and John Nyaku, the 22-year-old founders of Basa Basa into Fela Kuti's living room. Fela was seated, surrounded by his entourage of female dancers, band members and followers.
Upon seeing the brothers, Fela rose to his feet, bowed theatrically and exclaimed, "Dear twins! We are honoured to welcome you."
See also: Dr. Solutso – Basa Basa Soundz Feat. Fela Kuti or Ghana Special