"Big Fat Dog", by the Sierra Leone's Refugee All Stars, filmed in Freetown, from their album "Radio Salone" (2012).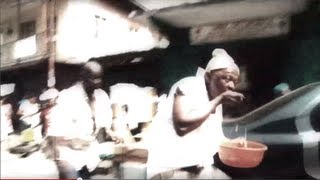 Cette vidéo avait été choisie, à sa sortie, pour supporter une campagne de communication du World Food Program USA contre la faim dans le monde, entre autres au Sahel. Sur un air entraînant, entre Ska et Calypso, le groupe nous conduit dans les rues de Freetown pour assister à la lutte entre ceux qui ont de quoi manger et les autres…
Sierra Leone's Refugee All Stars have risen like a phoenix out of the ashes of war and enflamed the passions of fans across the globe with their uplifting songs of hope, faith and joy. The band is a potent example of the redeeming power of music and the ability of the human spirit to persevere through unimaginable hardship and emerge with optimism intact.
From the Press Release
The World Food Program USA and Sierra Leone's Refugee All Stars have joined forces to bring attention to the urgent issue of global hunger. The partnership between the world-renowned music group and the hunger relief non-profit formally begins today, June 20, 2012 with the public release of the new music video "Big Fat Dog," a song from Sierra Leone's Refugee All Stars latest album Radio Salone that addresses the subject of the divide between the haves and have-nots.
Mother in Law
Note: even it video seems broken (no preview), it plays fine!