The first comprehensive documentation of the sounds and images of black people in Europe pre-1927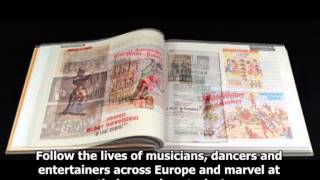 Black men and women – long present in Europe – have long been overlooked as pioneering personalities in modern mass media. From the early years of the recording industry, people of African descent were featured on European phonograph cylinders, gramophone discs and in movies and still images. Their music, speech and dance, in all styles, categories, and languages provide a rich resource. Black Europe will be documenting, rescueing and reissueing evidence of some 2,000 recordings and 200 films. This scattered and almost forgotten treasury runs from the 1880s to the late 1920s and the invention of the microphone. Rare originals have been lovingly restored using modern technology.
From African-Americans comes an aural kaleidoscope of entertainers and music from the last days of minstrelsy through ragtime and music hall artists to string bands, spirituals, and the early days of jazz in Europe, including the earliest examples of stride piano and rhythm scat singing, and some of the first records made anywhere of African-American folk music practices.
From Africans come recordings of African languages and folk tales, religious music on both African and European models, and recordings of the popular music of the 1920s. Also documented is the involvement of those born in Europe of African descent in the wider culture of the African diaspora.

Hear the first recordings of Josephine Baker, the roots of European Swing and Jazz bands, and the subversive religious discs of Fela Kuti's grandfather!
Follow the lives of musicians, dancers and entertainers across Europe and marvel at their amazing stories!
Discover audio documents, recording protocols and unseen treasures from years of research!
Black Europe – more info
Unfortunately this unique 44 CDs + 500 photos box set cannot be ordered anymore…