Franco singing "Simba Nkoni" during the Zaire 74 music festival that should have accompanied the Rumble in the Jungle boxing match between Muhammad Ali and George Foreman.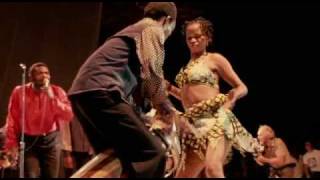 With the likely musicians/singers:
– chorus line: Michèl Boyibanda, Lola Chécain and Sam Mangwana,
– Guitars: Armando Brazzos and Lutumba Simaro, Mpudi Decca on bass,
– Bosuma Dessoin on percussion, Ntoya on drums,
– Dele Pedro on alto saxophone, Rondot Kasongo Wa Kasongo and Matalanza (?) on tenor saxes,
– Kapitena as leader of the trumpet players.
"Zaïre 74" aka Soul Power – Watch Tabu Ley – Aboumba & Abeti Masikini – Celia Cruz at the same concert.