Geraldo Pino is considered, including by Fela himself, the Godfather of Afrobeat.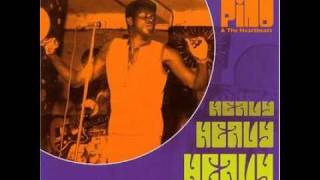 Geraldo Pino Biography
By Jason Ankeny / AllMusic
The acknowledged godfather of Afrobeat, Sierra Leone native Geraldo Pino laid the foundation for the West African soul and funk revolution of the 1970s.
Born Gerald Pine in Freetown on February 10, 1939, he was the son of a Nigeria-based attorney. After the sudden deaths of his mother and sister, he rebelled against his father by embracing music, co-founding the Heartbeats in 1961. The group's repertoire of American pop covers quickly caught on with local listeners, and soon the Heartbeats emerged as one of the highest-paid bands in West Africa, regularly headlining Freetown nightclubs like the Flamingo, Palm Beach, and Tiwana.
When television came to Sierra Leone in 1962, the Heartbeats even starred in their own show. Around this time, Pine adopted the stage name Geraldo Pino, an alias inspired by the famed Congolese musicians Franco and Doctor Nico. the Heartbeats founded their own Pino Records label in 1963, issuing a series of singles including "Maria Left for Waka," "Heartbeats Merengue," and "Zamzie." As the group evolved, its music absorbed the growing influence of American soul label Motown Records, although the seminal inspiration on Pino's vocals, songwriting, and public image proved to be R&B icon James Brown, whose relentless funk grooves and jaw-dropping showmanship directly shaped Pino's most celebrated efforts.

The Heartbeats toured West Africa almost continuously between 1965 and 1967, and the experience vaulted Pino to fame across the continent. The group's live show became the stuff of legend: "I was playing highlife jazz when Geraldo Pino came to town in '66 or a bit earlier with soul — that's what upset everything, man," Afrobeat legend Fela Kuti later recalled. "He came to town with James Brown's music, singing 'Hey, hey, I feel all right, ta ta ta ta….' And with such equipment you've never seen, man. This man was tearing Lagos to pieces. After seeing this Pino, I knew I had to get my shit together. And quick!" Hits like "Power to the People," "Give Me Ganja," "Let Them Talk," and "Make Me Feel Good" further bolstered Pino's celebrity, and when the Heartbeats split in 1969 he recruited members of the Ghanaian psychedelic band the Plastic Jims to serve as his new backing unit. That same year Pino also purchased his own television station and hotel in Port Harcourt, Nigeria, and in the years to follow he rarely left the area, making a handful of exceptions to play live dates alongside acts like Jimmy Cliff, Rufus Thomas, and Manu Dibango. The commercial ascendance of Kuti and other Afro-beat pioneers further overshadowed Pino's latter-day music, and he was largely forgotten until some of his classic efforts were reissued on CD in 2005. Despite battling cancer and diabetes, he played a triumphant London comeback date in 2007 — Pino died November 10, 2008.
Let's have a party (1974)