Featured track from the Ghana Special: Modern Highlife, Afro Sounds & Ghanaian Blues 1968-1981 album.
"Akoko Ba" by Gyedu-Blay Ambolley & His Creations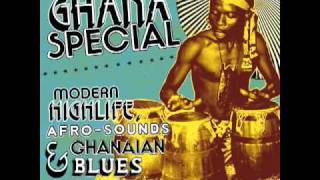 Ghana Special represents nearly ten years of on-going research in and around the cities of Accra, Tema, Cape Coast, Takoradi and Kumasi, knocking on musician's doors and visiting ex-distributors, DJs, collectors, manufacturers and shop owners who helped piece the story together.
More on Bandcamp.
Ghana Special – Tracklist
Kai Wawa – The Mercury Dance Band – 3:00
Owuo Adaadaa Me – T. O. Jazz – 2:51
Din Ya Sugri – Christy Azuma and Uppers International – 7:02
Aaya Lolo – The Barbecues – 3:48
Ohiani Sua Efir – Asaase Ase – 4:02
Bofoo Beye Abowa Den – St. Peter and The Holy Men – 3:14
Nye Asem Hwe – City Boys Band – 4:51
Edinya Benya – Hedzoleh Soundz – 3:17
Hwehwe Mu Yi Mpena – The Cutlass Dance Band – 3:17
Sei Nazo – Dr. K. Gyasi and His Noble Kings – 3:02
Obi Agye Me Dofo – Vis a Vis – 9:50
Twer Nyame (Excerpt) – Ebo Taylor – 5:21
Mi Sumoo Bo Donn – The Big Beats – 3:39
Odo Mmera – Pa Steeles African Brothers – 3:01
You Monopolise Me – The Ogyatanaa Show Band – 3:14
Wompe Masem – The African Brothers International Band – 4:19
Akoko Ba – Gyedu-Blay Ambolley and His Creations – 5:26
Akampanye – The Sweet Talks – 4:27
Enuanom Adofo – Houghas Sorowonko – 3:09
Bukom – Oscar Sulleys Nzele Soundz – 3:28
You Can Go – Bokoor Band – 3:21
Tamale – Pagadeja – 3:11
Omusus Da Fe Mmusu – Hedzolleh Soundz – 4:58
Yahia Mu – The Uhuru Dance Band – 4:10
Noble Kings (Yako Aba) – Dr. K. Gyasi and His Noble Kings – 5:46
Bindiga – The Wellis Band – 3:24
Boombaya – Boombaya – 3:39
Owuo – Sawaaba Soundz – 4:20
Them Go Talk of You – The Cutlass Dance Band – 3:30
Sisi Mbon – Honny and The Bees Band – 6:47