Sweet talks offers oldschool highlife with A.B. Crentsil on vocals.
The band started under the joint leadership of Smart Nkansah and A.B. Crentsil as resident band at The Talk Of The Town Hotel in Tema near Accra. It is here they established a name for themselves as one of the most exciting young bands in the country.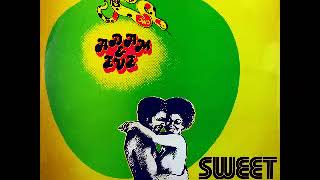 Party Time In Hollywood was recorded in Los Angeles in 1978, and it was their biggest selling record.
Sweet Talks (1978)
Ye Wo Adze A Oye – Composed By A.B. Crentsil – 16:40
Nawa To Be Husband – Composed By John Koko – 5:39
Only Your Voice, Juliana – Crentsil, Afful, Thorty – 5:50
Ehurisi – Composed By Eric Agyeman – 4:00
Angelina – Crentsil, Afful, Thorty – 5:30
CD Compilation (1998)
The playlist below refers to this German compilation released in 1998. It contains both Sweet Talks' "Hollywood Highlife Party" and A.B. Crentsil's Moses.