Janka Nabay est le père auto-proclamé de la musique Bubu contemporaine de Sierra Leone, qui prend ses racines dans les fêtes musulmanes auxquelles il assistait petit, mais qui existe depuis plusieurs centaines d'années. Il est le premier à avoir modernisé cette musique en y intégrant des claviers et des flutes de bambou ou réalisées à partir de pièces de carburateurs, et ainsi à l'avoir popularisée.
C'est clairement de la musique pour la danse, voire la transe.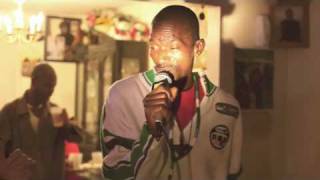 Pendant la guerre civile qui a ravagé ce pays, même s'il n'avait pas pris fait et cause pour un camp contre l'autre et continuait à enregistrer à Freetown, ses compositions furent utilisées par les forces rebelles qui les diffusaient largement afin de faire sortir les gens de leurs cachettes et ainsi les capturer…
Aussi, ses textes actuels cherchent à gommer ce mauvais souvenir et sont très axés sur son militantisme pacifique, humanitaire et égalitaire.
Nabay's "bubu" music may sound utterly hip and futuristic to American ears, but its history spans centuries. The original "bubu" is cloaked in mythology: according to Nabay a young "bubu boy" took it from witches 500 years ago and brought it to the public at large, sacrificing his own life in the process. When Islam reached Sierra Leone, bubu became a part of indigenous processionals during Ramadan; this is the music Nabay learned and perfected as a child. As Janka says: "Bubu is an old, old music, but people don't know about it. You can add new things into the beat if you know it really well, and make your own sound out of it."
Like many other musicians in Sierra Leone, Nabay got his start performing what he liked: reggae. But while auditioning for a national talent contest, Nabay's performance of bubu music wowed a panel of frustrated judges who were eager to hear something uniquely Sierra Leonean.
So impressed, they decided to sponsor Nabay's first recording session. From the Forensic Recording Studios of Freetown (Sierra Leone's capital), he drew inspiration from "Michael Jackson, Bob Marley, and God" and modernized bubu into a hypnotic dance music, adding new instruments and timbres while remaining faithful to the transfixing rhythms that defined the original. "Like any other beat, it has flows, ups and downs," he notes, pointing to the powerful patterns that pulse at the start of tracks like 'Eh Mane Ah' and 'Kill Me With Bongo.' "You have to feel the swing. It starts by knowing the bass drum beats," continues Nabay. "You get the flow and then you do one, two. One is your left foot and two is your right, and then you're dancing."
Nabay's infectious bubu style quickly won dedicated fans across Sierra Leone, where his cassettes sold in the tens of thousands, blasting from local boom boxes across the country. Singing in Sierra Leone's lingua franca, Krio, as well as his native tribal Temne, English, and Arabic, Nabay considers his work, then and now, a letter to Sierra Leoneans, a call for them to remember the roots of their culture. "I'm the first guy who made it pleasant for people to come back to the culture, to love their culture. I made songs that encouraged them to concentrate on the culture," Nabay muses.