Le disque Burundi Black est relativement inclassable du fait de l'année de sa réalisation, 1971, et qu'il a été produit par un pianiste français de formation classique, Michel Bernholc sous le pseudonyme Mike Steïphenson, sur la base de rythmes et percussions originaires du Burundi. Sur des samples extraits depuis un disque ethnographique, réalisé pour Ocora en 1967/8, il a ajouté ses arrangements avec guitare Rock et piano.
Comme toujours, malheureusement, les 25 musiciens du Burundi, de la tribu Ingoma, n'ont touché aucun droit de diffusion ou reproduction sur ces albums.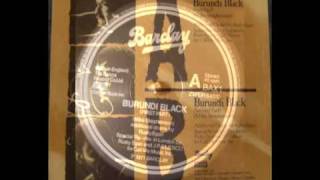 Mais surtout, les tambours de ce titre ont eu un impact important sur certains groupes classés dans les genres Punk, Post-Punk ou New Wave, comme Adam & the Ants.

A noté que ces mêmes percussions ont été utilisées (samplées) par Joni Mitchell, Def Leppard et les Beastie Boys.

Does anybody remember this track from 1971 (here the 12″ version)? Based on a track from French Ocora's ethnic recordings "Musique du Burundi" (1968), the guitar and keyboard were added by a French musician in the UK. These beats served as rhythmic foundation for many tracks later released by Adam and the Ants or Bow Wow Wow.