Ebo Taylor's hypnotic track "Heaven" comprises modern jazz elements, and the song's vocals borrow their format from a Ghanian nursery rhyme style, whereby children would repeat the final word of each sentence.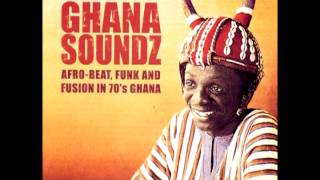 Originally released in 1977, Ebo Taylor's self-titled album is a rarity that truly exposes the genius of the Ghanaian producer and arranger. Having spent most of the 1970s involved in Ghana's afro-funk output, working with different bands and musicians alike, Taylor put forward his own unique blend of Ghanaian highlife and afrobeat with this self-titled release.
Tracklist
Saana
Ntsir A
Bra
Ohye Atar Gyan
Heaven
Amponsah
The six songs that make up the album exemplify Taylor's desire to experiment and move beyond the constraints of colonial influences on Highlife and African musical traditions. Saana combines highlife guitars and jazz horns with a funked up rhythm and the sweetest chants, a vibe carried over on Ntsir A with its funky horns and Ghanaian singing. Throughout the album Taylor injects elements of funk, jazz and afrobeat into his compositions without being obvious, instead channelling the experimentation he once referred to as ʻa way to develop our African music to enable us to get global attention.' Heaven is perhaps the album's highlight and widely recognised as one of the finest examples of Ghanaian afrobeat from the late 70s.
Where Fela cemented the energetic Afrobeat genre in dances throughout the 70s and 80s, Ebo championed the Highlife sound he so loved. But his genius lies in his fusion of jazz and highlife, providing a musical voice that was both thoroughly modern and tied into his own cultural history.
In 2010 this track was sampled by modern RnB artists Ludacris and Usher, in the song "She Don't Know."
Heaven by Ebo Taylor is also available on Ghana Soundz Afrobeat Funk & Fusion in 70's Ghаna.