This is pure traditional Kora playing by Dawda Jobarteh & Toumani Diabaté.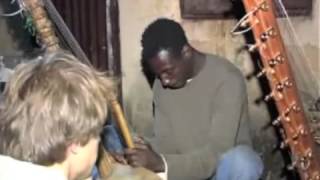 The kora is a stringed instrument used extensively in West Africa. A kora typically has 21 strings, which are played by plucking with the fingers. It combines features of the lute and harp.
In the late 20th century, a 24/5-string model of the kora was developed, though it has been adopted by only a few players.
More on Wikipedia.
Djeli Moussa Diawara (cover image) plays a unique 32-string model.