The film, Alhaji Bai Konte (1978), depicts a day-in-the-life of the now-deceased Gambian Mandinka kora virtuoso, Alhaji Bai Konte, shot on location in Brikama, Gambia (plus one scene in Dakar, Senegal), West Africa. The film was co-produced by Oliver Franklin and Marc Pevar, and filmed by Harold Yates and Lenore French and edited by Rob Wallace. Alhaji Bai Konte's son, Dembo Konte, accompanies in the performance, and various family members and friends make cameo appearances. His wife, Nafi Kouyate, appears in the final scene, praying.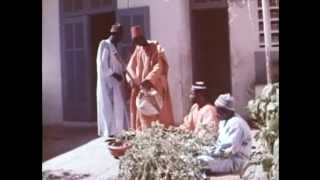 Kora is a 21-stringed harp unique to the Mandinka, played by Griots who are oral historians as well as musicians. This group of Mandinka preserve and propagate genealogical and historical information through song and story, and are a source of immense pride and identity to the Mandinka people.
Alhaji Bai Konte was the first griot to introduce the kora widely throughout North America, where he toured major folk, jazz and blues festivals, gave private concerts and mingled with many professional musicians. His tours continued for seven years in the 1970's, often accompanied by Dembo Konte and Malamini Jobate, whose excellent musical skills were also a delight to their audiences. Alhaji Bai Konte appeared on TV and radio many times, most famously on the PBS TV series Jump Street, narrated by Oscar Brown Jr., and also on a historic NPR radio show recorded in Vermont, where he shared the stage with Elizabeth Cotton and Taj Mahal. That radio show aired for many years, with these iconic musicians representing the roots from Africa, the adaptation of kora picking styles to guitar, and the synthesis of the two fused into the modern era.
Both Elizabeth Cotton and Taj Mahal acknowledged that their music and instrumental techniques arose from the Kora, which Pete Seeger also credited as the source of blues and Jazz. Alhaji Bai Konte performed with many musicians including: Taj Mahal, Elizabeth Cotton, The Paul Winter Consort, Tony Bird, Pete Seeger, David Amram…
The documentary is narrated by Taj Mahal.