Teriba ("humility" in Yoruba) is an all-female vocal trio from Benin.
Since 2006, Zékiath Abogourin, Tatiana et Carine Ahissou sing and dance across Africa.
The trio created a sensation first during MASA 2007 (Marché des Arts du Spectacle Africain) in Côte d'Ivoire, then during Nuits Atypiques in 2008 (Koudougou – Burkina Faso).
This same year, they were nominated for a Kora Award as "Best Traditional Band".
Finally, in 2009, they received the Hokan Award as "Best Beninese Female Band" and started their first international tour.
Nonvi is the 1st single, part of their new album "Akpé".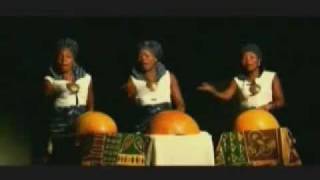 Teriba Trio – Live in Paris